ADD COMMENTS BELOW! JOIN THE DISCUSSION!
JOIN US
for a discussion of the comedians and destinations we have enjoyed on
THREE IMPRACTICAL JOKERS CRUISES! And get ready for CRUISE #4!!!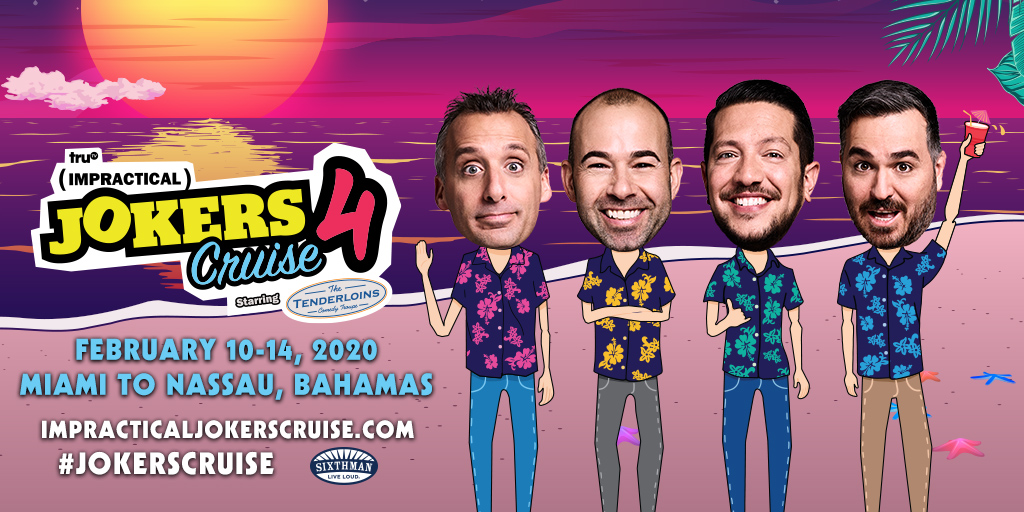 Go to ImpracticalJokersCruise.com for ALL THE DETAILS!
Alumni and Newbies alike are welcomed to join the conversation, either by calling in to our
VOICEMAIL LINE 608-7-BTPPOD
or sending us an email
btppod@gmail.com
The best method is to

leave a message at 608-728-7763

to tell us which comedians or events you have enjoyed!

WE WILL PLAY YOUR MESSAGE ON THE AIR

as part of a live recording

happening on a FUTURE EPISODE

so CALL TODAY to be included in the final episode!!
SUBMIT MESSAGES ANYTIME!!
EPISODE RECORDING ANNOUNCEMENTS COMING SOON!
CRUISE 4 COMING FEBRUARY 2020! JOIN THE DISCUSSION
!!
tell us who your favorite comedians are and what you're most excited about!!
YOUR MESSAGE WILL BE FEATURED ON A FUTURE EPISODE, PRIOR TO SAILING!
***UPDATE - THE SHIP IS OVER 70% FULL - BOOK TODAY***
Go to ImpracticalJokersCruise.com for ALL THE DETAILS!
PREVIOUS EPISODES:
Some Tips and Fun Anecdotes about IJ Cruise 2017!!
Re-live the memories with us from the FIRST Impractical Jokers Cruise in 2016...
Join the stars of truTV's Impractical Jokers, The Tenderloins, for nonstop laughs as we set sail from Tampa to Great Stirrup Cay, Bahamas February 6-10, 2019 on the Third Annual Impractical Jokers Cruise. Sal, Joe, Q and Murr are back as Norwegian Pearl's honorary captains of fun and hijinks on the high seas, and they want you to join them on board!
Your vacation just got a whole lot funnier!
Comedians, musicians, activities, and theme nights, all curated by The Tenderloins themselves will round out your cruise entertainment. Spend your days lounging on the pool deck or catching endless comedy sets, and be ready to keep this party going until the wee hours of the morning! We'll arrive at Great Stirrup Cay—our very own private island—where you'll choose from snorkeling, jet skis and other adventures, or just unwind on the beach with a drink in hand.
Don't miss the boat; join in on the laughs!
Join us as we let loose and get wild on a four-day, adventure-packed cruise with music, friends, and fun in the sun. All the festival details along with dates and pricing can be found at
www.impracticaljokerscruise.com
Give the gift of Sixthman to your friends and family for birthdays, holidays, or for no reason at all. Your recipient will LIVE LOUD on the vacation of their dreams!
Sixthman Gift Cards can be used as a payment on a reservation, OR for reservations already paid in full, they can be applied as on board credit to cover drinks, merchandise, spa treatments, excursions, specialty dining and more!